by Terry Gardner
In 2015, Seattle-Tacoma International Airport (SEA or Sea-Tac) served more than 42 million passengers and was the 13th busiest airport in the U.S. By the end of this year, it may become a top 10 airport by serving more than 45 million passengers.
Sea-Tac currently has 80 gates located in its Central Terminal with four concourses (A-D) and North and South satellite terminals. The airport's 24 commercial carriers fly to more than 70 domestic and 22 international airports.
I love Sea-Tac because it offers great technology, including free Wi-Fi (which will get even better in 2017) and charging stations. The airport's proximity to Puget Sound means I can also score great seafood at several restaurants. And Sea-Tac was the first U.S. airport where I noticed trash bins for sorting recyclables years before it was fashionable.
Wi-Fi and Power
Not only is business booming at Sea-Tac, amenities are also improving. According to Sea-Tac spokesperson Brian DeRoy, the airport will be upgrading its Wi-Fi sometime during March 2017. "Wi-Fi is a big customer demand," he says, "and we currently have it configured to have the best signal strength in areas where there are laptop-charging counters." DeRoy says the airport has close to 2,700 power outlets scattered from gate to gate.
More Seats
Sea-Tac is also aiming to increase keister comfort. DeRoy says that more seating areas are planned in 2017 and promises that these new seats will be more like couches.
Speedier Customs
In 2015, Sea-Tac added Mobile Passport Control kiosks to its customs area to expedite international arrivals. The free MPC app is authorized by U.S. Customs and Border Protection and is available in Google Play and Apple App stores.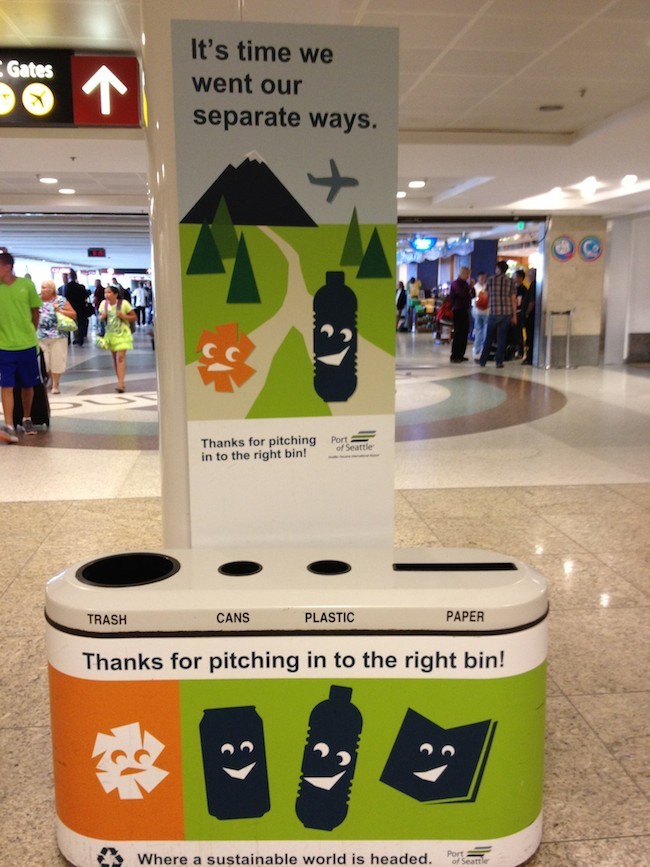 Passenger Favorites
As I mentioned earlier, Sea-Tac offers a variety of amenities. The most popular ones, says DeRoy, are free Wi-Fi, power charging, the wait time and experience at security checkpoints and terminal conditions. The rental car shuttle and the Sea-Tac app for navigating the airport are also popular.
Ground Transit Options
Sea-Tac offers plenty of transportation options to and from Seattle, ranging from taxi and rental car services to public transit and easy access locations for Lyft, Uber and Wingz. The airport even offers bicycle assembly and other bike services.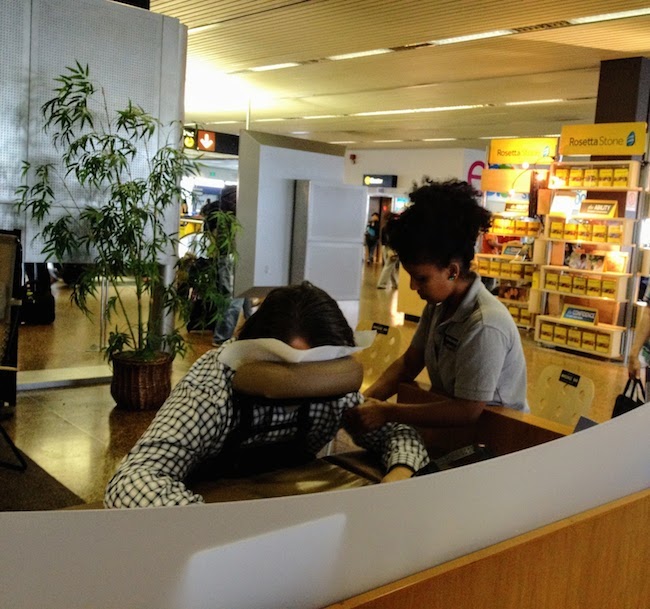 Eco-Friendly with More LEED to Come
Sea-Tac offers a strong environmental program by providing trash, recyclable and compost bins. It also provides water bottle dumping stations at all security checkpoints.
Sometime during the upcoming 12 months, the airport will break ground for its new International Arrivals Facility. This will help Sea-Tac comply with emerging environmental and energy concerns. The terminal will take two years to complete and will be a multi-level 450,000 square-foot facility east of where Concourse A is currently located.
Terry is a freelance journalist who contributes to several newspapers (print and online) and websites, including the Los Angeles Times Travel, Chicago Tribune Travel, Dallas Morning News, Travel Weekly and Global Traveler. She writes a syndicated monthly travel app column for Chicago Tribune and is passionate about travel, the environment, wildlife, scuba diving and adventure.