By Ant Pruitt
Drones are popping up more and more every day. Some may see drones as a nuisance, others like me see them as fun toys as well as awesome tools for creative art. Not all drones are created equally so you shouldn't just jump blindly into buying one. Allow me to share a few of my favorite drone options and my proposed course of action you can use to purchase a drone.
Are You a First Timer?
So you've heard about drones and seen some awesome 4K video from drones all over YouTube. You're thinking to yourself, "I must have a drone!" Slow down, buddy. Approach with caution.
Buying a drone can be as inexpensive as $30 or as expensive as $3,000. There's a reason there's such a wide range in pricing. It's because not all drones are created equal. Like most technology, you're looking at components and build quality which help make up the costs. If you're starting out, I wouldn't suggest you buy an expensive drone. Start low. Start with something you see at a shopping mall kiosk or with a Hubsan. Preferably a Hubsan.
Hubsan has made a name for itself with quality drones that are perfect for beginners. You can spend $30-$40 on a mini drone that is a lot of fun to fly. You won't always have a camera option or altitude hold, but you'll have a small quad (roughly four square inches) that will help you learn how to pilot a drone. I love the Hubsan X4 107 model. It's super quick and responds to the controller input really well. It takes a beating fairly well also. After a few crashes, you're typically replacing propellers for next to nothing, but the drone body is still safely intact. It has LED lighting to assist in orientation while you're flying it. Spare parts and extra batteries are also inexpensive. Flight time can be anywhere from six to eight minutes.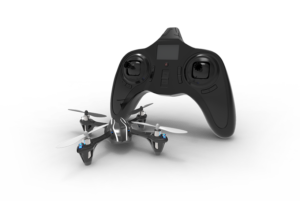 Image credit: Hubsan
Intermediate Drone Pilot
After you've logged some significant flight time with your beginner drone, you'll definitely be ready for an upgrade. You have a few options. You could jump into Wi-Fi camera drones or FPV (first person view) drones. I'd stay away from FPV at this time. Move up to a drone with a camera installed. The beginner models offer cameras. but most don't offer a Wi-Fi camera. Most mid-sized drones do offer Wi-Fi camera connectivity. For a drone in this range, I suggest the Syma X5 SW.
This is a drone I own personally. This is substantially larger than your beginner drone, but it's just as nimble. Being larger comes with different challenges. The handling is slightly different and you also get to incorporate different flying modes with the mid-sized drones. Modes such as Expert mode is when you can disable the governor on the drone which keeps it flying at a slower speed. You still have the same navigational controls, but when you're going at a faster speed through the air, you can easily stress out and lose concentration. Which leads to a panic-induced crash.
Crashing a drone like the Syma X5 SW can be painful, but in most cases, the drone will still operate upon recovery. They're pretty tough. The trick is to not depend on the Wi-Fi camera view that you can see on your smartphone while it's attached to the remote. That view has a little latency so your drone reacting to your controller based on what you see on the screen could be hazardous.
Keep your eyes on the drone. Not the screen. The X5 SW used to cost about $80, now you can get it for roughly $60 in some sites. Be warned, the "HD" camera is not a 720p camera. At best, you'll get 480p video and images from this camera. This drone does not have altitude hold or GPS which really forces you to handle the drone manually during flight. It can be tricky at first, but you'll catch on soon enough.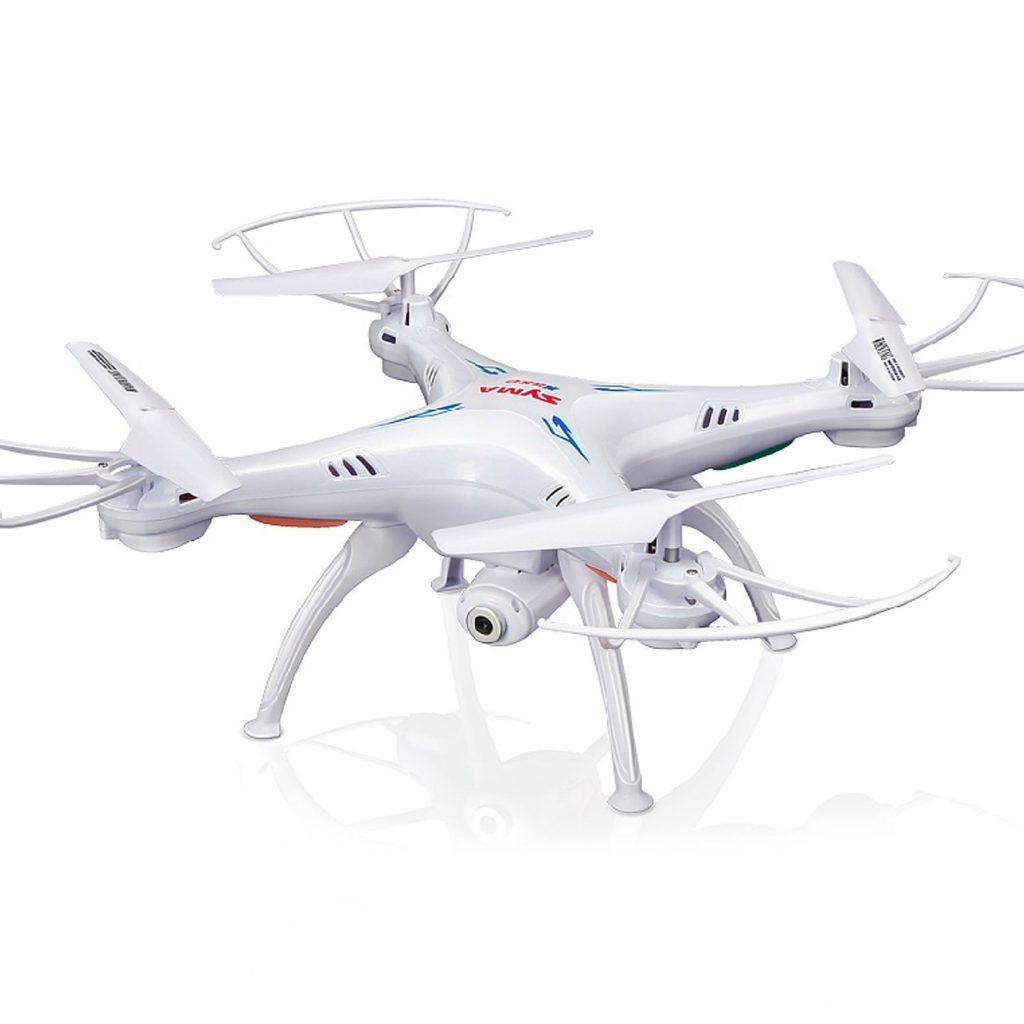 Image credit: Amazon
Step Up To the ProSumer Drones
Now that you've gotten used to flying drones, you'll definitely want to upgrade to some of the better drones on the market. Of course, you have several options in this market space. You can choose from FPV racers, DIY FPV racers, larger steady-cam drones, portable drones and finally the professional drones.
FPV drones continue to grow in popularity as they let pilots fly with a first person view of the drone's flight. There's even a drone racing league that uses this same technology. Flying FPV forces you to be advanced with your controls as you're not looking directly at your aircraft during flight. Instead, you're viewing the surroundings. Pilots have to be attentive and make sure not crash. Most FPV cameras come with HD cameras. Some even have Go-Pro quality cameras. One of the popular FPV drones available is the Eachine Wizard. This is a racing drone so don't expect to capture amazing, cinematic video. But you will capture great footage of your flight because it has a quality camera install. Get it for $279 on Amazon.
I recently tested a Parrot Bebop2 FPV drone. It's a pretty nice drone. It's not the best, but it does a good job overall. I wrote more about it on TechRepublic. Flight time for these drones is 10-12 minutes per charge.
If you're aiming to shoot cinematic video and capture beautiful aerial footage, it's time to grab a drone with a 3-axis gimbal as well as GPS and awesome software. Drones such as the DJI Phantom line can range anywhere from $400 to $1,300. It depends on the make, model and accessories you purchase. The drones in this category also include GPS as well as creative flight modes and fail-safe options. The GPS modules allow your drone to hover in one spot easily and aids in flying patterns. You're still responsible for controlling the drone, but it's a lot easier with a GPS lock. It's actually easier than flying the beginner or mid-range drones on the market.
The Phantom 4 Pro and the Spark are the latest from DJI, but I would suggest buying a Phantom 3 Pro grade if you're able to find one. Or the Phantom 4. I own the Autel Robotics X-Star Premium and I absolutely love it. It does not have the collision avoidance built into it that the DJI drones have, but it's pretty stellar with handling and camera quality (4K resolution). Grab the Phantom 4 for just over $1000.  Get the X-Star Premium for just under $800.
There are tons of drones in all of the areas I discussed. These are just a few that I fancy. Feel free to share with me your favorite drones and why. Tag me on Twitter with your comments as well.