by Sandy Berger
Adult coloring books are taking the world by storm. From specialty stores to drugstores to department stores you can find them almost everywhere. Coloring is quite relaxing. You can easily become completely absorbed in a picture, lost in a world of color and design.
Coloring books are popular and they've also gone high-tech. If you like to color, but you don't like carrying around pencils, markers and "books," then you might enjoy a coloring app.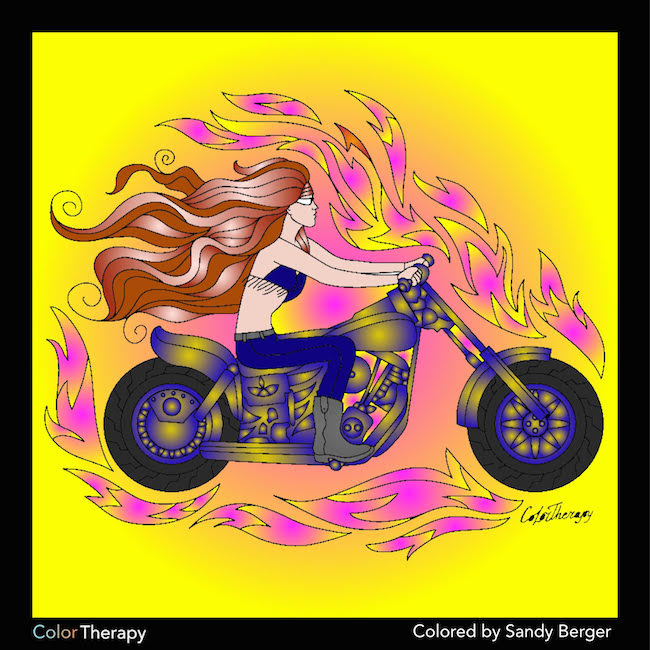 These apps vary widely; especially in the way you choose colors and pictures. One of the best is Color Therapy by Miinu Limited available free for the iPad and iPhone.
To begin you simply choose a color and then tap the area you want to fill in. Alternatively, you can use your fingers to move the picture around and zoom in and out as you work.
The thing I like best about Color Therapy is the gradient color choices. For instance, you can choose a shade of pink that slowly moves into blue or pick a brown that starts our dark and slowly gets lighter.
Making color choices is intuitive and the colors that you're using stay at the bottom of the screen for your convenience. Or if you prefer, you can simply press your finger on any color in the picture to reuse it. This is a lifesaver compared to some of the other coloring apps I've seen. Sometimes matching a previously used color can be frustrating.
In Color Therapy you pay a fee to unlock additional colors. Or you can simply pay a one-time fee of $8.99 to unlock all of the available colors. That's a reasonable price considering most coloring books cost that or more. And the color palette is quite extensive too.
You can even color to music. The app provides a nice selection of tunes to match your mood, such as "relaxing piano," "cheerful jazz" or "serene garden."
In addition, Color Therapy lets you share your creation with your signature on Instagram, Facebook, Twitter and other social platforms. It also lets you add special texture effects to your creation. These include canvas painting, watercolor, fabric, glitter and silk. You can also play around with the lines and add frames. If you like to tinker with your creations, this is an easy way to do it.
Although Color Therapy will work on both the iPhone and iPad, coloring on the larger surface of a tablet is much more enjoyable. If you find that you like this type of coloring, you may also want to invest in a stylus that you can use instead of, or in conjunction with, your fingers. Although the use of a stylus is not necessary, I find it quite enjoyable.
Sandy began her career as a computer programmer and over the years has become a trusted authority on a variety of tech, gadgets and gizmos. A regular on TV, radio and podcasts, Sandy speaks at tech events around the world.